Common Labels Ja Rule A 2Pac Biter
Common Labels Ja Rule A 2Pac Biter
Common Calls Ja Rule A Pac Biter On New LP.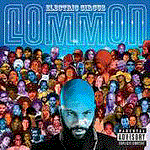 On Common's new album "Electric Circus" he calls out Ja Rule accusing him of being a Pac biter. Here are the lyrics from the song "Soul Power" directed at Ja Rule, where he refers to him as a "decoy" and says his persona is stolen from 2pac:
"You made a hit, and came up on a few dollars/
I'd rather listen to silence than you 'Holla'/
Why is your persona/
from the late great, that made 'Dear Mama?'/
My realness is the armor/
that I wear up in this sport for truth, you a decoy/
Common Sense is like the future of the b-boy"
Source: Madeniggaz.net